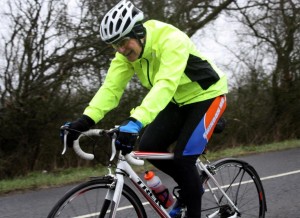 In this lighter summertime piece, Bishop Lee looks at the sport of road cycling to draw some parallels with what is expected of Christian disciples.
Those who know me well appreciate that two things are very close to my heart road cycling and the Lord Jesus Christ. With the Tour de France still fresh in our minds and the Tour of Britain coming soon this seems a good moment to ask What do professional road cyclists and Christian disciples have in common? Here are a few thoughts with some Bible references for further reflection and exploration:
Teamwork although some still believe that the 198 cyclists who line up for the Tour de France are all out to win the competition for themselves they are mistaken. It is all about the team working with and for one another. Being a follower of Jesus is not about a solo performance but working with others in the Church, the Body of Christ (Ephesians 4:11-16).
Gifting the team contains cyclists who can maintain high speed on rolling terrain (rouleurs), sprinters who can ride for one hundred miles or more yet still finish the last 200m at over 40 mph, and climbers who can fly up steep hills or one mountain gradient after another. Every persons gift is valued and honed for the good of the whole team (1 Corinthians 12: 12-31).
Serving some cyclists spend their whole career as domestiques. They have no aspiration of winning; their role is to ensure that others especially the lead rider are protected, provided for, and given every opportunity to win either a stage or the overall race (Mark 10: 41-45).
One Leader in any race, but particularly in a stage race such as the Tour de France, one person is the nominated leader in the overall competition. When there are two potential leaders, or occasionally even three, it usually spells trouble! For followers of Jesus it must never be about us but about Christ (1 Corinthians 3: 1-11).
Suffering a word you will hear a lot among amateur road cyclists as well as professionals. Getting better as a cyclist does not abrogate suffering, rather it means learning how to bear it for longer. Road cyclists have to dig deep and learn to keep going when their body is telling them to stop, to give up (John 19: 23-27).
Sacrifice on long mountain stages, the pace will get faster and faster as one member of the team after another rides on the front to provide cover for their leader and bear the brunt of the wind resistance. Team members sacrifice themselves by giving everything they have before dropping back totally spent and plummeting down the ranking (John 21: 18-19).
Courage mountain descents and bunch sprints require tremendous nerve. Crashes during the madcap sprint are all too common, often ending in broken bones and smashed faces. Following the cyclists down mountains at speeds of up to 70 mph has caused journalists in their cars to be in tears because they have been so frightened. (Esther 7: 3-4).
Cheating sadly professional road cycling, and even some amateur competitions, have been tainted by doping. From the very beginning of the sport there have been those who have taken drugs and other substances to improve their own chances. In the Lance Armstrong era doping was not only endemic but part of a culture of fear and corruption. (1 John 1: 5-2: 2).
Joy and Thanksgiving at the end of each stage, and far more so at the conclusion of the entire race, the joy on the faces of the whole team and the gratitude that the winner expresses to his teammates is wonderful. In a competition such as the Tour de France the winnings are shared by the whole team (Romans 12: 9-21).
In penning this I want to conclude with two thoughts. First, mens road racing is more familiar than womens because of events such as the Tour de France, but each dimension above applies as much to women road cyclists as it does to men. (I chose Esther as an example of courage as a reminder of this). Unlike professional cycling, discipleship requires us to work in close partnership across gender, not in separate compartments.
Second, one of the reasons I find road cycling a powerful illustration for discipleship is because it says something I believe men need to hear about the nature of following Jesus Christ, namely that it is demanding, tough and deeply rewarding. My sense is that men need more help in recognizing these dimensions of the Christian life. Perhaps hanging a racing bike inside or outside the church might promote an interesting engagement around this by men and women?
+Lee
August 2016