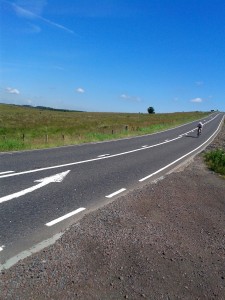 Having seen two bikes on the roof rack some of you may be wondering when Mike has had the chance to ride his. After all, acting as my 'Director Sportif', domestique and general factotum has been a full time occupation!
On the ride from John O'Groats, Mike was able to get back to Brora, mount his steed and ride out to meet me. Since then opportunities have been thin due to complicated routes and long days.
However, today's shorter ride conjured the idea of driving to Dalmeny - around 10 miles from Edinburgh - leaving the car and taking the bikes on a train back to Perth. One of the perks of this ploy was traversing the Firth of Forth bridges three times - by car, rail and cycle. With blue water and skies the vista was stunning.
I was glad of a slightly shorter day as my muscles were a bit stiff in spite of the panoply of exercises I always do after each ride. The racing saddle has also been making its mark after so many miles...
Before he retired, Mike worked for Network Rail and his work led him to knowing a great deal about the Forth Bridges. This made for some interesting conversations - that is when we were not barreling along or saving our energy going up hills. We had a really good day and the bee that tried to spoil it by stinging my inside leg through the Lycra did not manage it.
The people hosting us in the guest houses and hotels continue to be stars. The proprietor of the Perth Guest House we stayed in moved me to a room with a bath when she discovered what I was doing and also made a donation as we paid our bill. She said it was not much but I said that if 1,000 people were as generous we would make it easily. Looking at the Virgin Giving page,there are a lot of people who are showing the way.
More:
News story: Bishop Lee swaps robes for Lycra