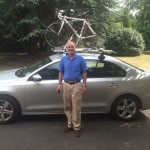 Having taken twohours yesterday to assemble and fit the roof bars and bike carriers, this morning Mike and I loaded the car and set off for the Grand Depart on Sunday.
It is just as well the Jetta has such a capacious boot as we filled it with a bike maintenance stand, a dedicated tool set, bucket and cleaning kit, grease, oil, Teflon spray, sundry inner tubes and three spare wheels in addition to clothing etc.
The journey turned out to be a challenge. We hit nose to tail traffic on the A417 a few miles from Cheltenham, whilestop and start 'tidal' jams on the M5 then M6 were the order of the day for over 170 miles of a 313 mile journey. We averaged at best 35mph until we reached Lancaster. The Tour de France peleton would probably have made the journey more speedily!
I am writing this with a further 90 miles before we reach our overnight stop in Moffat, a few miles north of Dumfries. The weather has turned from lovely sunshine when we left Swindon to blanket grey skies and persistent rain. The forecast for Sunday is thunderstorms. So much for moving the date to July from late September in order to get better weather...
Despite this unpromising start we are in good heart and the regular references to the other Grand Depart in Leeds tomorrow have made us feel part of a very special cycling occasion. The strains of Kraftwerk's 'Tour de France' album on the radio only added to the atmosphere.
A check on the Virgin Giving site reveals 1,600 has so far been donated which, with Gift Aid, puts it to almost 2,000. I have also had money and cheques come into the office and will add these figures later. The messages people have left with their donations have been uplifting and people's generosity never fails to amaze Mike and I. We prayed before we left for safe travel and the snail-like pace may have been a blessing in disguise. I have sent a picture for the Facebook site of the 'off'. Signing off for now.