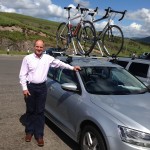 As I write today we have just had our afternoon break in the lee of Ben Nevis. No time for a closer look, let alone climbing GBs highest mountain, as we are still 120 miles from our destination. Nevertheless I am pleased to report that this has been a day with plenty of sightseeing.
On the cycle route Mike had originally planned for last year, I was going to come down from John O'Groats via Loch Ness, Glencoe and Loch Lomond. However, we later discovered that the road carried a good deal of traffic during the week, including heavy goods vehicles. Having replotted the route to run further east we decided to sample the original one in reverse order by car on the way up. Even in the showers the landscape is breath-taking and it would have been a joy to ride through, notwithstanding the long drags uphill.
We also managed some visiting today, dropping in on some old friends of mine who live near Killearn, around 15 miles north of Glasgow.
I first met Moira and Alasdair Brown as a result of being a member of the Gene Therapy Advisory Committee. Professor Moira Brown is one of our nation's top virologists and pioneered ground-breaking developments in gene therapy for tumours of the brain utilising a genetically engineered virus. I later discovered that Moira, and her husband Alasdair, are not only related to our former Chair of the House of Laity in Bristol Diocese, Gordon Stirrat, but committed Christians. It was very special to visit their home and catch up with one another. It was also moving to learn how Moira and Alasdair had been praying for us throughout my cancer treatment.
In the cafe at Fort William, Mike and I managed to catch the last 3km of the opening stage of the Tour de France. When Mark Cavendish hit the deck in the manic sprint for the line, we both cried out in alarm. I am not sure what others thought was happening as they probably could not see my iPad! From the way Cav cradled his arm, it is almost certainly a collarbone break. His Tour looks over before it has barely started.
Mine begins in earnest tomorrow and sprints at 40mph are definitely forbidden.