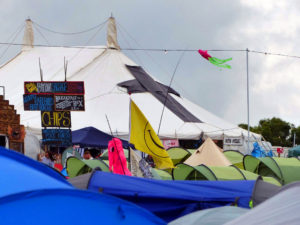 Glastonbury Festival is one of the iconic summer gatherings known across the world.
Millions of people have attended the festival since it began and it has grown tremendously over the years. It is one of the most creative places, not just for the music but, also, numerous other inspiring events/venues/installations covering art, theatre, poetry, dance, different healing and faith expressions. And there is an opportunity to join a team of Christians serving the festival.
So what do we do and offer at the Sanctuary Marquee, where is it based and who are we?
The guiding statement is as follows: As part of the Christian Church we intend to demonstrate the love of Christ in Action by offering festival goers a warm welcome, space to reflect and a willingness to listen. What this means in practice is that a team of volunteers (70 in total) work 24 hours a day in organised shifts to offer sanctuary for the festival-goers and site staff.
During the day, creative activities are on offer for the festival, such as face painting, massage, games, karaoke and acts of worship: as well as providing somewhere to shelter from the rain and mud or sun and dust.
During the night, we provide safe accommodation in our marquee for any festival-goer that find themselves lost, disorientated, washed out by the rain or needing a safe space to sleep. We also provide a warm fire for people to gather around, especially as it can be cold at night. We offer free water, 24 hours a day, and last year handed out about 14,000 cups of water. Small acts of kindness.
We are at the Festival to:
Be a part of being the church at the Festival in community life, worship, prayer and discipleship
Give a warm welcome to Festival-goers
Provide shelter and a safe space
Provide space to reflect
Provide a listening ear
Be willing to share what our faith means to us, if asked
Maybe, this is something for you to try for yourself?
If you are interested and want to know more then further information or would like an application form (deadline is 6 March) visit www.facebook.com/groups/thechurchglastonburyfestival or email revdleebarnes@gmail.com.