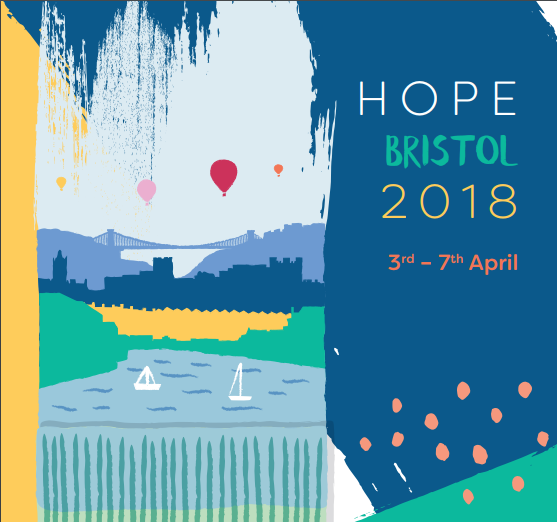 Dan Jones, diocesan youth and childrens adviser for the Diocese of Bristol, reflects on Hope Bristol 2018.
To say that things are beginning to hot up at Hope Bristol central is an understatement! With only four months until the five-day event begins, a lot of the logistics are beginning take shape and numbers of young people and leaders signing up to Hope Bristol goes up week by week. For those of us who have been involved right from day one, we are beginning to believe that we can pull this off.
What has also been hugely encouraging to the steering committee is the level of support that has been shown by churches across the city. From initial enquiries to praying for, committing and donating to Hope Bristol, the project portfolio is growing too and at the last count, fourteen family events are confirmed in Fishponds, Easton, Longwell Green, Redcliffe, Knowle West, Whitchurch, Bedminster, Southmead, Horfield, Lockleaze, Seamills, Lawrence Weston, St. Werburghs and Kingswood.
As Bishop Lee highlights, Hope Bristol is a fantastic opportunity for churches to participate in an exciting mission that will transform your lives and those in our city. Hope Bristol aims to partner with and equip churches to show God's love to people of all ages, and there is still plenty of time for churches to consider their part in the mission next Easter.
To help churches think creatively about mission, an excellent resource full of ideas has been produced (click here) but a question I frequently get asked is; Isnt it just about engaging with the younger generations? My response is simple. No. Hope Bristol does have a strong focus on young people being involved in mission, but partnering with local churches to show God's love in practical ways to all ages is right at the forefront of Hope Bristols aims.
Personally I would love to see all our churches in the city (however large or small) consider how Hope Bristol could support and enable them to provide something thats right and relevant to their context.
So if there is someone in your congregation who has wanted to run a childrens club for the first time, Hope Bristol can help. If your church would like to run an afternoon activity for the elderly, Hope Bristol would also love to help.
For more information please contact Dan or Sam Cook (Hope Bristol Coordinator) on info@hopebristol.org / 07557 024611 or visit the Hope Bristol website.