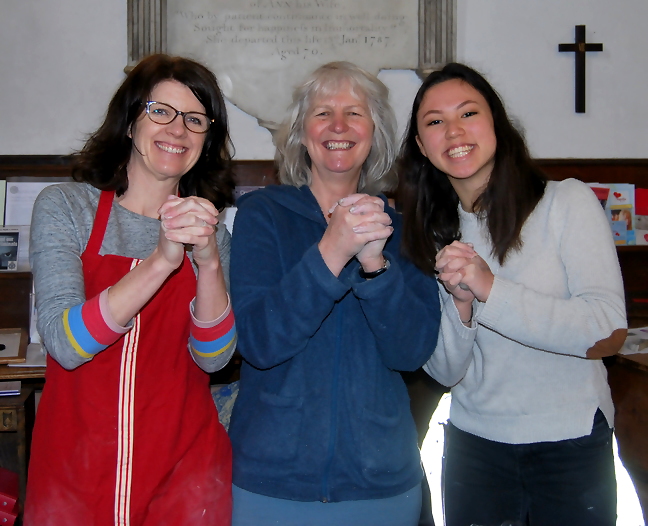 A community project marking the 1,300th anniversary of Holy Trinity Church in Westbury-on-Trym is nearing its final stages with the help of the villages primary school children.
The Hands in Prayer initiative involves creating an art installation made up of 1,300 clay hand clasps which will be installed in the Church grounds.
The scheme is the brainchild of art teachers from Redmaids High School working with Father Andr Hart, Vicar at Holy Trinity Church.
Head of Art at the all-girls school, Beth Sims, said: With this hugely important event in the life of the church, we wanted to bring the community together and create an inspiring work of art that would be a lasting tribute.
It was inspired by a number of artists and exhibitions including the commemorative poppies at the Tower of London by Paul Cummins and Tom Piper, Mrs Sims added.
More than 1,100 clay casts have already been collected from junior and senior students at Redmaids High and members of the church congregation.
Just before Easter, 120 Reception and Year 1 boys and girls at nearby Westbury-on-Trym C of E Academy joined the project with a special assembly before making their own child-size hand casts.
Father Andr said: While the project is linked to Holy Trinity and the Christian faith, we wanted to create something that appealed to everyone. This scheme encapsulating the idea of hope and collective action spans all religions and beliefs.
Taking the hand cast involves squeezing a small round piece of soft clay between two hands in a position of prayer. A silent thought, prayer or good luck wish can be added at the time.
The casts are then mounted onto a wooden dowel, left to dry and fired in a kiln, turning the clay from grey to pure white.
They will be collectively installed in the grounds after a special church service in June.
Cathy Milton, Headteacher at Westbury-on-Trym C of E Academy said: This is a very relevant project for our school, reflecting elements of our vision statement enriching our Faith and cherishing our Community.
Mrs Milton added: We have a very close association with Holy Trinity Church so we are delighted that our pupils could be involved in this project.