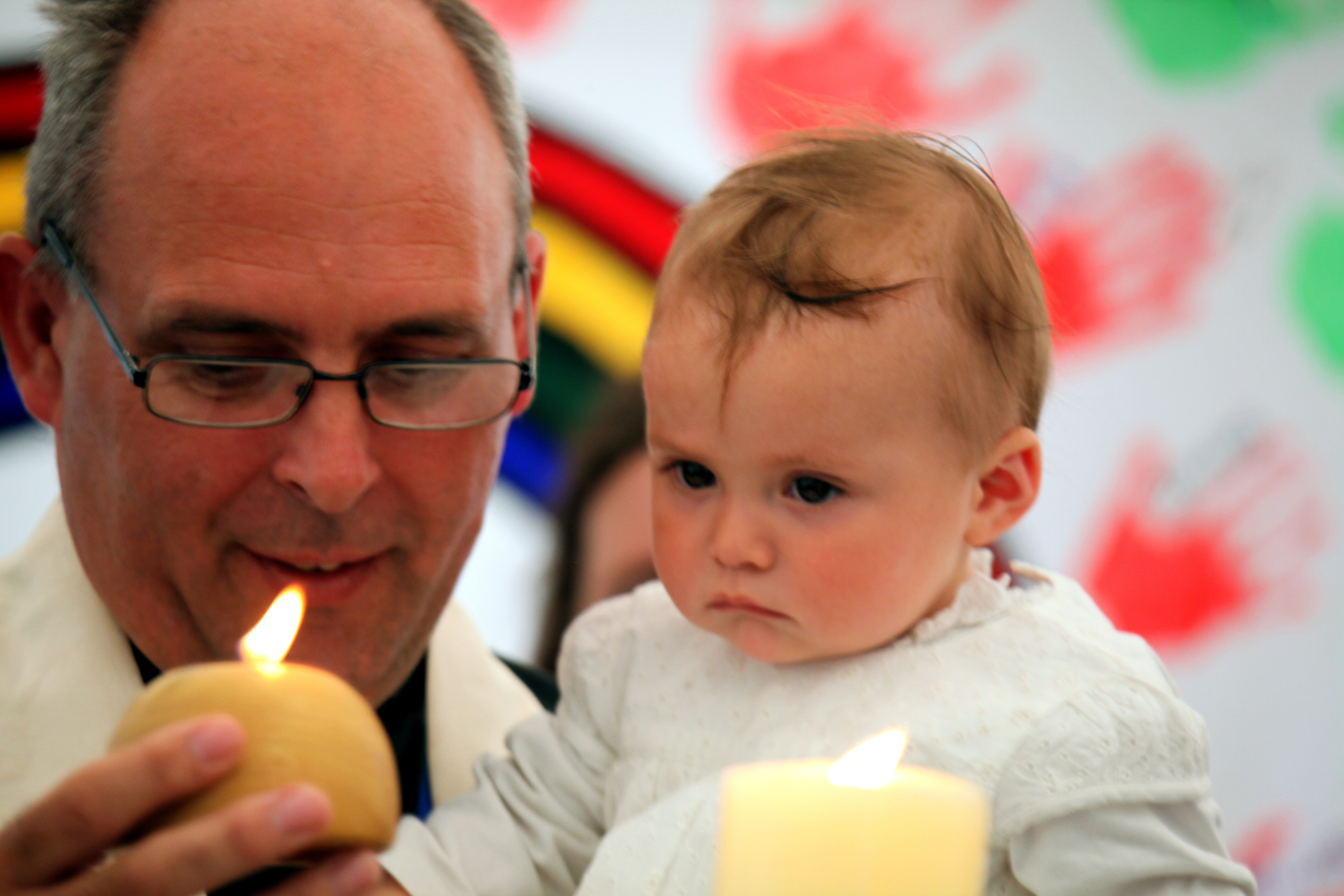 God was firmly in the midst of this years Glastonbury Festival.
On the main stage Stormzy sang of Grace and, over in the Sanctuary Marquee, 11-month-old Maggie was being baptised in the first infant baptism to be held at the festivals Churches Tent.
Maggies parents, Claire and Geoff, have been attending Glastonbury for many years and when the time came to have their youngest baptised, the festival seemed the obvious place.
Claire said: I grew up in Somerset and Ive always been going to Glastonbury since I was a child.
As Geoff and I work around the world, it means that we dont have a fixed abode. So when I knew I would be coming back to Somerset this summer, it seemed the right time and place to do it at the Festival.
Our godparents were coming from the four corners of the UK and fortunately they were all coming to Glastonbury, so we decided to see if we could make it happen there.
Family contacts were able to put Claire and Geoff in touch with Revd Chris North, Acting Head of Ministry Development at the Diocese of Bristol, who heads up the Sanctuary Marquee on behalf of Churches Together in Somerset.
While it was an unusual request, Chris knew that it was important to make it happen.
He said: As a vicar, people will often ask if you can do something which doesnt fit into the way you would normally expect to do church. My role is to connect people with God even if it means doing something for them which seems out of the ordinary.
When Claire and Geoff told me what they wanted to do, my first reaction was to say Fantastic! Lets make this happen.
Chris made a Pascal candle stand out of a birch log and an altar out of pallets and, on Sunday morning, Maggie was baptised by Chris in front of family, friends and a congregation of festival-goers. Within the service Revd Lee Barnes, Priest-in-charge of Holy Trinity, Hotwells and St Stephen's Bristol, also brought a message of hope, love and welcome, weaving together the words of Stormzy and the good news of the Gospel.
Claire said: It was a really warm ceremony that just left us all with a wonderful glow.
People came up to speak to me afterwards and told me that it had really resonated with them; it had given them a message of hope to take away with them.
It was so lovely to have people come up and introduce themselves to us. It was very much a Glastonbury moment.
Also getting baptised at the service was 32-year-old Dave Johnson, from the Peak District, who had approached Chris after hearing about the plans for Maggies baptism.