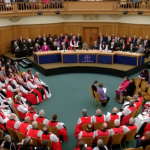 So, we have just finished the first Synod of the 2015-20 sessions here in London.
The Bristol contingent of seven, consisting of sixelected members led by Bishop Mike, is supplemented by our good friend Rev Dr Emma Ineson, Principal of Trinity College representing the Theological Education Institutions. Emma is a welcome friend and, of course, well known to us as a former Bristol clergy representative during the 2010-15 sessions.
It is always wonderful to have Her Majesty the Queen to inaugurate Synod. Firstly she attended, with the Duke of Edinburgh, the service of Holy Communion in Westminster Abbey which is followed by the formal Inauguration in Church House. This admirable woman has attended all 10 in a row, every fiveyears, since the inception of General Synod in its present form. What an achievement!
Her presence was one of the major highlights. If you would like to hear what she said, here's the YouTube link:
The message is unity. This is not just ecumenically, but I think I perceived this to seek to apply to those with diverse theological views. Love thy neighbour - remember who first used those words? - is how I think we should be motivated.
To illustrate such unity, the preacher at the Abbey was a Roman Catholic. Father Raneiro Cantalamessa O.F.M. CAP - Preacher to the Papal Household. His message was unity too: "You are one in God"
In fact Pope Francis got quite a mention at Synod. Archbishop Justin made reference to him and coincidentally I am currently reading Paula Gooder's "The Joy of the Gospel", which opens up this Pope's reflections on sharing the love of God: "Evangelii gaudium" in original form.
You can watch or read Archbishop Justin's Presidential address - which I recommend you do - here.
In only two days as a group, your representatives have grown together in fellowship. We have shared meals and drinks together, including a generous invitation to the House of Lords at the close of Synod on Tuesday. Bishop Mike needed to share his time between the House of Bishops in Synod, and his Lords Spiritual responsibilities in the House of Lords.
This was a short synod but the worship was rich and sincere in the Assembly Hall. We considered stages of Reform and Renewal, reflected on Global Warming with Archbishop Sentamu, discussed the Refugee and Migrant Crisis, moved through some legislative business, listened to research on Public Perceptions of Jesus (GS Misc 1126) and received the Report of the Church Buildings Review Group (GS 2008). You can read these easily - visit the CofE website or download the General Synod App. All the papers magically appear.
Short synod may have been, but it was full of important matters which I encourage you to dip into, and see for yourselves.
Canon David Froude