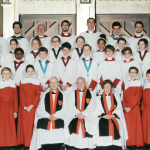 Cathedral Choir prepares for summer tour of Poland with special concert at Bristols Polish Church
Bristol Cathedral Choir is gearing up for an exciting trip to Poland this summer by staging a special concert in the citys Polish Church on Friday 13 June 2014.
The event will be a celebration of British and Polish cultures, with music and food from both nations, as the choristers give the audience a special preview of music they will perform on tour.
The concert at the Polish Catholic Church of our Lady of Ostrobrama on Cheltenham Road starts at 7.30pm, with tickets priced at 5 available on the door, or in advance at Bristol Cathedral Caf,or online at www.ticketshop.co.uk.
The Dean of Bristol Cathedral, the RtRevd Dr David Hoyle, said: The ancient English choral tradition, with its beautiful, pure sound of childrens trained voices, is unique and greatly loved across the world. We are looking forward enormously to taking that tradition to the people of Poland this summer.
At a time when there is so much focus on divisions between communities in the UK, its also wonderful to have the opportunity at this Fridays concert to celebrate the best of British and Polish culture in an atmosphere of Christian friendship.
The concert will feature music from the Cathedral Choir, together with solos by Polish singer Elizabeth Maria Harbinson. She will perform a number of folk songs loved by John Paul II, the 20th-century Polish Pope, who was officially made a saint in April this year.
Even the food served will celebrate both cultures including a cocktail stick holding Somerset Cheddar cheese and kabanos, the characteristic Polish sausage. Fridays concert will conclude with a joint blessing.
The Cathedral Choir comprises 35 choristers; the boys and girls singing the high parts, together with tenGentlemen, the men who sing the alto, tenor and bass parts. All Bristol Cathedral choristers are pupils at Bristol Cathedral Choir School.
After visits in recent years to Bordeaux, Hanover and Venice, this years biennial choir tour visits venues in Poland, including the iconic Wieliczka Salt Mine in Krakw, with its three chapels and an entire cathedral carved out of the salt rock. The tour will also include a visit to the Auschwitz concentration camp.
The choir will break their journey in Leipzig, Germany, where they will give a concert at the famous Thomaskirche, the church where the composer JS Bach was organist and choir master.
The Polish Church was first established after the Second World War by Polish airmen and wartime refugees, supported later by newly arrived economic migrants. Today it is the hub of a thriving and vibrant Polish community and is currently being restored following a serious fire in November.