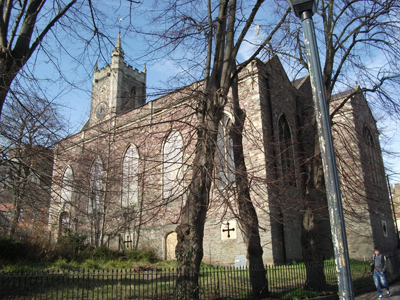 A 200-year-old former church in Bristol city centre is being restored to create a new events museum and venue.
St Michael on the Mount Without, which was damaged by fire in 2016, will become a multi-functional space for all types of events and community use as part of the plans. As part of the restoration, a museum will be created in the crypt of the Grade II* listed building.
The project is being carried out by Ian Johnson, an events and online publishing entrepreneur based in Clifton, who is acquiring the building from the Church of England following its closure as a place of worship in the late 1990s. He was behind the recent restoration of the Clifton Observatory.
Ian Johnson said he was looking forward to the challenge of restoring St Michael on the Mount Without to a new use.
He said: "As a local Bristol resident, born here, I was delighted to be chosen by the Diocese of Bristol to undertake such a sensitive project.
"I'm personally glad to give one of Bristol most historical buildings a future, especially one not dependent on residential development. To be able to open up a building like this for a variety of event uses is also an exciting process, and we hope to deliver a wide variety of event experiences and opportunities for Bristol residents and the local community.
"It will be an interesting process piecing together the detailed history of the area, to present an engaging museum experience. The considerable process of researching, structuring and compiling a museum of the surrounding area will help to provide important historical context to the building, but also serve as a new tourist destination adding to Bristol's rich heritage.
"The important first step to the building is to create a safe usage, re-instate the roof, and create a building with a long standing future. We aim to make this into something the area, and local residents can be proud of in the next two years."
The Diocese of Bristol has responsibility for seeking new uses for churches that close for worship.
Oliver Home, Diocesan Secretary, added: "The Diocese of Bristol was delighted to recommend Ian Johnson's proposal for St Michael on the Mount Without. After so many attempts to find a sustainable future for the building, the planned use will enable the former church to remain at the heart of the life of the local community and be conserved for years to come."
Ross Simmonds, of Historic England South West, said: We are delighted to hear of this positive progress for St Michaels on the Mount. The building is an iconic feature on Bristols skyline and much loved, but sadly, its been on our Heritage at Risk Register for a number of years. Securing the building for the community to use and enjoy has been a priority for our local team, and were pleased thats now one step closer.