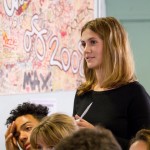 The Archbishop of Canterbury began his three-day visit to the Diocese of Bristol with a Q&A session with sixth-form students at St Mary Redcliffe & Temple School in Bristol.
Head of Sixth Form Richard Wheeler, says, The Archbishops visit to our schoolgave us a fantastic start to the year. As a Church of England secondary school with a very mixed student body in our very large sixthform, it is an interesting challenge for us to work out what it really means to be the sixthform of a faith school.
"One aspect of this is that we are a place in which committed Christians or those exploring faith can encounter ideas and role-models that encourage them in this journey. Another is that a strong sense of commitment to the well-being of all in our society, especially the most vulnerable, and to peace and justice in this country and the wider world, pervades all that we say and do.
"Archbishop Justins presence and personality, the reflectiveness and compassion that he modelled, and the specific issues that he brought to our attention, made a powerful statement about the relevance of the Christian message, which has given us much to think about and aspire to in the year ahead."
Read an article on the school website for more onwhat the students themselves made of Archbishop Justin's visit.