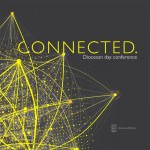 On 27 April 2016, clergy, ministers and leaders from churches across the Diocese will be exploring what it means to be Connected at a special diocesan day conference event.
Due to venue capacity issues the invitation had to be restricted to those serving in ministry roles within our churches, however the talks will be made available online along with a number of other resources which your church will be able to access and use.
This exciting event will serve as a launch for Creating connections, our new Diocesan Vision and Priorities which will unite us as a diocese with common focus over the coming years.
Through worship, prayer, fellowship and teaching, and by sharing stories from our parishes, we will discover together what it means to be connected to God, each other and our communities. The programme for the day will include input from Bishop Graham Tomlin (Bishop of Kensington), Emma Ineson (Principal of Trinity College) and Bishop Mike.
At the event we want to celebrate all the God is doing amongst us as we seek to reach out to those people who live and work in our neighbourhoods and find ways to share the good news of God's Kingdom with them. By connecting with each other and sharing these stories we can learn from and be inspired by, one another.
If you want to share any stories about how your church has been connecting with God, your community or each other, please send them to Ben Evans, Diocesan Communications Officer, on ben.evans@bristoldiocese.org.