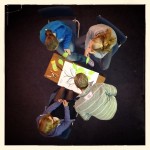 30 young people from clergy families in the dioceses of Bristol and Bath & Wells had a fantastic weekend in North Devon last month, part of the whole life support we offer to clergy families.
Have you ever wondered what it might be like growing up in a vicarage?
The phone ringing all the time meeting after meeting in your own home your parent leading assemblies in your schoolthe sound of My Jesus, My Saviour drifting into your bedroom as you play X-Box with your friends.
For children and young people who have parents as ministers, life can be very different to the one their peers experience. Life to the Max (LTTM) creates time and space for young people in clergy families to meet with and share their experiences with others.
LTTM gives clergy young people the time and space to be themselves," explains Dan Jones, Diocesan Youth & Children's Adviser.
"There is no expectation that they believe the same things as their parents. All we try to do is love them for who they are, have a great time and give them the opportunity to meet other young people who can relate to the situations, experiences and emotions they are dealing with.
Now in its tenth year, LTTM is organized in partnership with the Diocese of Bath and Wells. Led by the Youth and Childrens Advisers, this year thirty young people from across the dioceses travelled down to St Georges House, a Christian activity centre near Croyde, in two minibuses at the end of September for a fun-filled weekend of surfing, kayaking, mountain biking and archery.
Revd Simon Dunn, a Team Vicar in North Chippenham enthuses: "Our children look forward to the camaraderie, fun & activities. Life To The Max is a must for both of them. And we as parents highly value the care and attention paid to them by those who look after them, THANK YOU!"
Having worked closely with clergy children for a number of years, I believe that the Diocese can offer them a context for support," concludes Dan.
"When you hear their stories about the good things and sometimes the struggles they have being a clergy kid, Im reminded of the reasons why we organise this event. It is a privilege to take them away - the young people love LTTM, they love each other and it is wonderful knowing that that they stay in touch with each other too.
If you would like to know more about LTTM and next years dates, please contact Dan Jones on 0117 906 0100 / daniel.jones@bristoldiocese.org