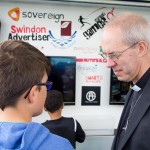 Justin's visit has left a real buzz with those he met and it has increased people's awareness of the local church being active and a force for good in our neighbourhood
On Saturday 13 September, Archbishop Justin joined local residents onthe Pinehurst estate in Swindon at a community fun day as part of this three-day visit to the Diocese.
The Messy Saturday event was organised by Swindon Youth for Christ (who run the BIOS project) and SHINE pioneer ministry. Archbishop Justinchatted to young people bythe mobile youth club (a converted supermarket delivery van),enjoyed conversations with representatives from a number of different local community groups and even did some hand prints in the Messy Church tent.
The Archbishop met the Swindon Youth for Christ (SYFC) team and heard about the community work of the BIOS project and the wider work of SYFC in schools, on the streets and with churches. This year alone the centre had over 30,000 opportunities to share good news with young people.
Chris Priddy, director of SYFC, says: The Archbishop was amazed by the huge amount of work we do every week and greatly encouraged by the support we receive from local churches and Christians.
The SYFC team asked him to write on a graffiti board the answer to their Big Question of the Week which was "What does an Archbishop do?" Justin wrote his response, "He has the fun of talking about Jesus to everyone." The Archbishop certainly showed that as he chatted to some of the young people and families that the team work with.
Chris said: I was personally very impressed with Justin's humility and humanity. He is extremely approachable and very passionate about seeing the Gospel shared with all people. His recently launched St Anselm's initiative sounds really exciting and demonstrates his commitment to young Christians.
Archbishop Justin also wrote a prayer for
Young Peoples Sunday
, which took place on 28 September. Now in its second year, its a day organised by SYFC where the churches in Swindon come together to pray for the young people of the town.
In his prayer, the Archbishop thanked God for the young people of your Church in this town, for the energy and creativity they bring to us, for all we learn from them and all they contribute to our life together. He went on to ask that God would teach them wisdom and the fear of the Lord, granting them gifts of faith, hope and love to empower them with vision and strength to will and act for His glory.
Simon Halls is the SHINEPioneer Minister for Pinehurst. He says,"It was a real privilege to have Justin visit and be able to show him some of the exciting work that is going on and to introduce him to some of our partners and local residents. He came with a real desire to listen and I had difficulty pulling him away from talking to people as there were many others waiting! His visit has left a real buzz with those he met and it has increased people's awareness of the local church being active and a force for good in our neighbourhood."
Michelle John is a Community Worker inPinehurst and she says it was great for the work with people on the estate to be recognised during the Archbishop's visit. "It really gave ashowcase for what they have achieved and the work going forward. I feel that local people appreciated that opportunity to meet the Archbishop and they felt that he had an understanding of the work they do and the barriers that local people face on a day to day basis. Hopefully it will help shape the way forward for the future."
Local resident, Kerrie Payton agrees: "It was nice seeing Archbishop. It was nice that he come to good old Pinehurst and never judged us as a community; it was nice to see him take a interest in what was being done."
Another local resident, Kathy Holland adds, "It was nice to feel recognised by someone so famous. We didn't feel belittled by him, it felt like he was engaging with not just us but with everyone. He wanted to know our thoughts and opinions. I liked him right away; he was warm, funny, intelligent and not pompous as one might have imagined him to be considering his stature."
Dorothy Brown runs the Pinehurst Credit Union. She says, "It was a great opportunity to meet the Archbishop and for him to see how a smaller community-based credit union works. He was interested in the work we doto get rid of doorstep lending and also was interested to know first-hand if government money was filtering through to the bottom tier.
"I came away with the feeling that he was aware of the work that local people played in the community and the benefits that the community were reaping. A very nice man."