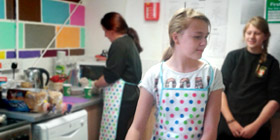 Hospitality has always been at the heart of Christian community and is a mark of a healthy church.
It can manifest itself in all sorts of ways and these three relatively new caf initiatives illustrate one way that churches are witnessing to the love of God through generosity and by taking on a visible role in the community.
Pilot youth cafe
The Christian Union at Malmesbury School called Somewhere in Between - wanted to establish a Christian presence in the community and to walk where others walk. They teamed up with the local youth advisory group to work through the idea of a youth caf. The caf opened on Wednesday 26 June as a four week pilot aimed at 11 to 14-year olds.
Sarah McGrory, volunteer Youth Minister at Malmesbury Abbey, calls the initiative incarnational living. She says:
The Christian young people are a witness to the others by the way they live. They are a fantastic example of what can be achieved when you take down the barriers and do proper good community work! Both groups have worked together and prayed together to achieve this.
The young people who are involved plan to do all their own cake baking, using Fairtrade products as much as possible. The caf will be open for four weeks and, if all goes well, will re-open in the new school year, expanding beyond the 11-14-year-old remit to cater for all young people.
Community drop-in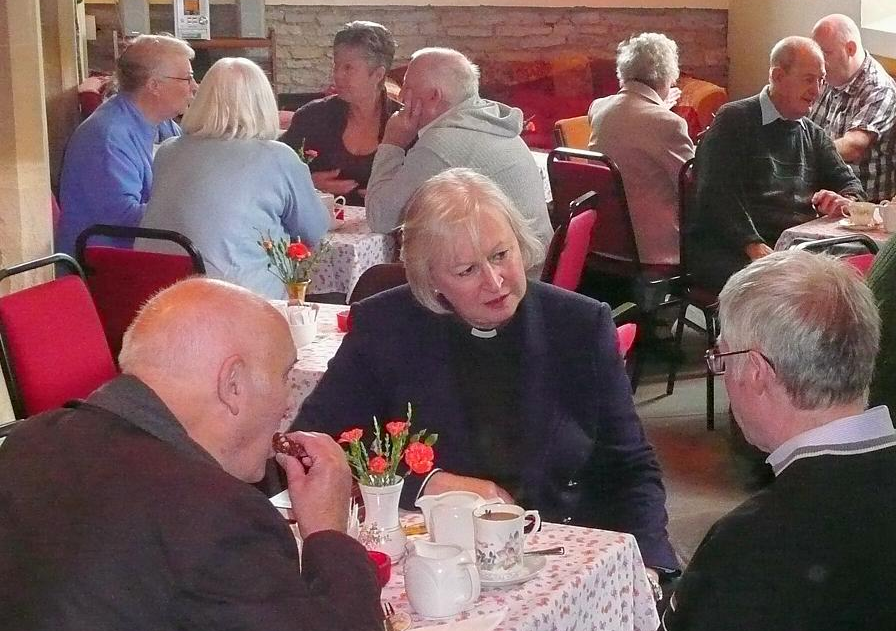 Recently honoured in the Queens birthday lists, Rev Elspeth Desmond was inspired in part by the church caf at Shirehampton. Elspeths vision was for St Peters Church, Filton, to be open every day of the week. The church is right at the heart of the village, opposite the bank, Post Office and two pubs. She believed that the building and the faith it embodies ought to belong to the whole community and access not seem restricted to a group of Sundays only people.
Thecafe's popularity extends from those who are grateful for a good caf in Filton to those who are marginalised, lonely or have nowhere else to meet. Refreshments are donations-only because the aim is to be place of community and open to all. As gift, the caf believes in ensuring the quality of its hot drinks and cakes. Of the 25 volunteer cake-makers, one is even a professional! The bereaved, the young and those with mental health problems have found spiritual nourishment. The caf is a place to relax, unload or simply meet with friends.
The caf isalso a gateway to the nave of the church for anyone who wants to light candles or pray. By making the church visible, visitors appreciate the Christian motivation and the invitation has been extended and taken up - not just to receive care but also to join in Sunday worship.
The congregation has benefitted too. Most of the thirty volunteers are regular worshippers andmany have discovered gifts of counselling, prayer and encouragement. They have also learned more about one-another and found deeper friendship.
The Cafe on the Square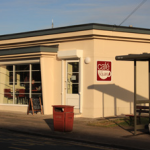 St Edyths, Sea Mills is a part of a local ecumenical mission Sea Mills Community Initiative (SMCI) which set up The Caf on the Square to bring a sense of local pride and to be a collaborative focus for the various churches involved. The caf opened in December 2011 after the building (closed by the Council in 2004) was purchased by SMCI. Once redundant and in disrepair, the former toilet block has become a well-used community caf with space for small group activities.
A key feature of the caf is that it has actually facilitated community, there being no real meeting place in Sea Mills before. Sharing God's love through hospitality has enabled people to form relationships in their own locality. Revd David Izzard, one of the cafs trustees, says:
We had to start building community in order to serve it. Facilitating relationships like this has made it easier to connect to people in a relevant, everyday way. People find it easier to talk about their problems or their faith in a neutral place and the central setting has given people access to church without them being put off by the building or Sunday services.
The cafe has hosted Alpha and Christians Against Poverty courses, as well as being used by groups like the local youth club. There are 2 part-time managers and a bank of volunteers who ensure that visitors are served well and that there is someone on-hand to talk to. The cafe has alos built links with a local school, providing a pupil with a work experience placement. In May last year the caf was officially opened by HRH the Princess Royal.
More tea, vicar?
There are more great cafs around the diocese, like at Malmesbury Abbey and St Stephens in Bristol city centre (both featured in this video). Let us know what you are doing if youd like to contribute your ideas as a resource to inspire others. Similarly, if youre looking to do something similar in your community and would like advice we can put you in touch with some of these pioneers of the percolator.