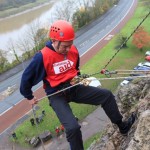 Bristol vicar, Rev Canon Nick Hay proved his dedication to tackling poverty when he not only abseiled 100ft down the Avon Gorge on Saturday 15 November, but also sang the nursery rhyme The Wheels on the Bus as he went down.
Nick, priest-in-charge of St Pauls, Bedminster, and of St Augustines, Whitchurch, said he wanted to show that fighting for justice for the worlds poorest could be fun. Hewas joined by 13 other abseilers, including Kingswood and Hanham Methodist minister, Rev Dee Yeadon, and 11-year-old Robert from St Mary Redcliffe & Temple School.
Nick said, Falling off the cliff was a memorable experience; not perhaps the way I would choose to spend my Saturday mornings but Christian Aid do great stuff transforming communities and in our safe world here in Bristol the least we can do is put ourselves outside our comfort zones occasionally.
And singing The Wheels on the Bus gave me a distraction from the ground far below me I tried doing the actions too, with mixed results!
Robert, from Knowle, and a pupil at St Mary Redcliffe & Temple School, said he signed up for the abseil because he wants to do something positive to support people suffering in Iraq and Syria at the moment. He said, It was pretty scary stepping over the edge of the gorge but I know that by abseiling Im making a difference to people living in poverty around the world.
Organisers hope the abseil will raise around 3,000. Bristols regional coordinator for Christian Aid, Lydia Nash, said, By taking on this challenge, the abseilers not only challenged themselves but also the structures which keep people trapped in poverty.
I would like to thank everyone who took part; their efforts will have a real impact on peoples lives - whether they sung a nursery rhyme or not although special thanks do go to Nick for keeping us all so wonderfully entertained during his descent!
To donate to Christian Aid visit www.christianaid.org.uk
and to sponsor Nick visit his Justgiving page at www.justgiving.com/nickthevic.