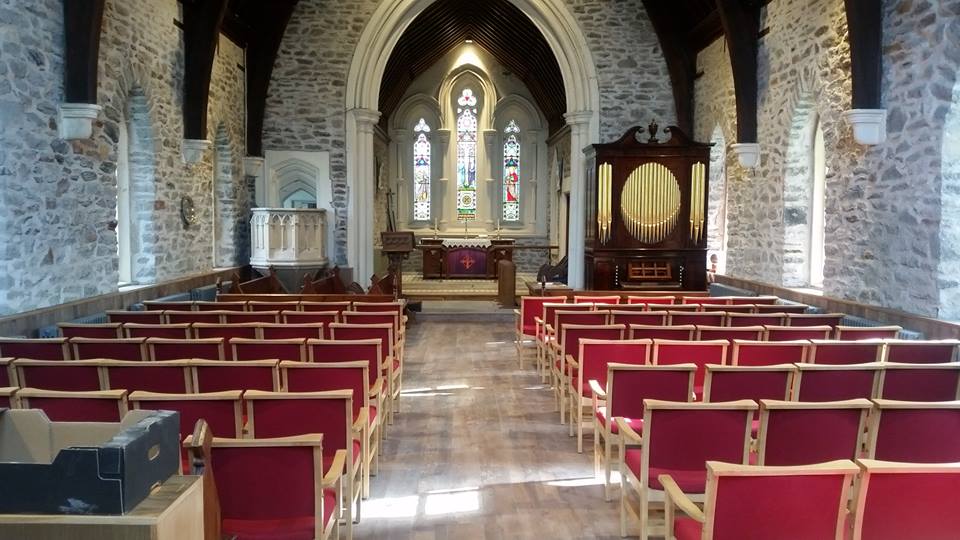 Each year the Diocesan Advisory Committee recognises a number of projects through its awards scheme.
The DAC awards are made where a parish has completed a project to an exceptional standard of workmanship, or where a project has been key to that parishs growth and mission.
This year the DAC awards celebrated the achievements of four parishes from across the Diocese:
St Peter, Pilning for its internal re-ordering
Holy Trinity, Westbury on Trym for the improvements to the west entrance and access
St Anne, Oldland for the Ecce Homo project
St Mary, Purton/Purton Parish Council for its churchyard trees project.
The drinks reception was held at Holy Trinity, Westbury on Trym, where the parish team has completed great improvements to the entrance at the west of the church, pointing straight to the town. A slight alteration to the outside levels and a platform lift have made access for all a reality and new glass doors and clearing some of the rear pews has made a lovely welcome area as visitors enter the church.
St Peters Pilning has been greatly re-ordered, with new chairs, new floor and lighting and a small servery. This has opened up the church for much more practical community use, and made it a much lighter space for all to appreciate.
At St Anne, Oldland, a painting that had been donated to the parish has been restored and, after research by Bristol Museum and Gallery has been found to be by Bartolemo Murillo (1617-1682). The original is now on loan to the Gallery where it is on display to the public, and a high quality copy is in the church. It was used as a focus for a Maundy Thursday meditation this year.
The PCC at St Marys, Purton worked well with the Parish Council to plan a project for maintenance of the numerous trees in their closed churchyard and the DAC recognised the good co-operation in this application.
The DAC forms a key part of the process by which parishes develop proposals for their buildings and obtain consent to carry out work. It works closely with parishes in caring for their buildings and in adapting them to support their mission and growth. In doing so it encounters many people working with incredible commitment and passion, often with significant obstacles to be overcome.
The DAC sees many applications from parishes through the year, and this event was a good opportunity to give proper recognition to some of those projects, with representatives of the parishes having the chance to share their experiences.
Nominations for awards can be made to Emma Bakewell, DAC Secretary.
Images from the DAC Awards 2018