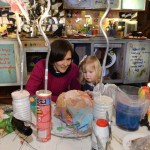 More than 8,000 has been raised by a Bristol church to help feed hungry children in its parish.St Mary Redcliffe has exceeded by one-third the 6,000 target it set for its Lent appeal, reports Associate Vicar,Revd Kat Campion-Spall.
Kat says, "It is thanks to our congregation, as well as supporters across the city and visitors from around the world, that we have managed to raise such a great sum for the charity Kids Company."
Founded by psychotherapist Camila Batmanghelidjh, the charity operates a sanctuary for vulnerable children and young people close to the church in nearby Prewett Street.
Kat adds, "It seems our Evening with Camila Batmanghelidjh fundraising event and the Hungry Childhoods exhibition on display in the church highlighting the devastating effects of food poverty on vulnerable children caught peoples imaginations and inspired their generosity."
Kat is keen to hear from other charities with a strong presence in Bristol who would like to benefit from next years Lent Appeal.
To contact RevdKat Campion-Spall call 07506 310 564 or email campion-spall@stmaryredcliffe.co.uk