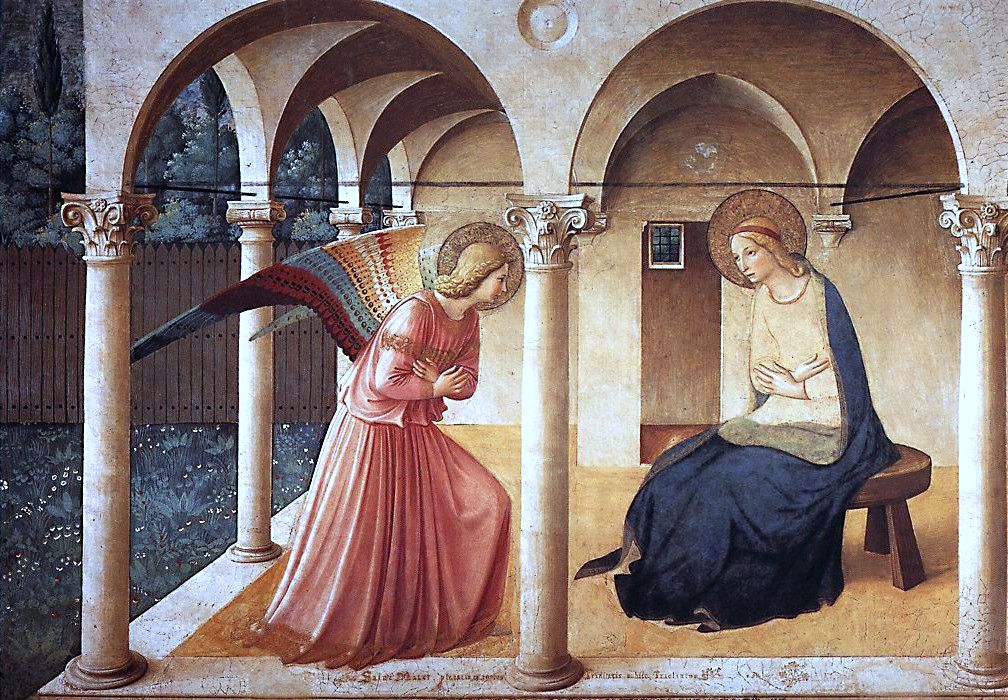 In our latest blog, Revd Dr Emma Ineson, Principal of Trinity College Bristol, reflects on stepping out in faith when God calls us:
One of my favourite pieces of art is a fresco in the monastery of San Marco Florence by the 15th century Dominican friar and artist, Fra Angelico, showing the scene where the angel Gabriel brings the news to Mary that she will give birth to Jesus, the Son of God. The painting is at the top of the stairs which led to the monks cells. They would pause on the landing, and kneel before it, before going to their rooms for prayer, rest or study. Seeing Mary saying her yes to God was a reminder of their own call to respond daily with their, equally obedient, yes.
I still remember so clearly the moment I said yes to God. I was sitting in church at an Advent service, 24 years old and pregnant with our first child. I had been wrestling with a thought that God might be calling me to become a Vicar. Dont be ridiculous!, Id said to God, Im far too young. And female. And expecting. Its ridiculous!. As if by way of a response, the reading came from Luke chapter 1, the same scene depicted in the Far Angelico painting of the Annunciation. It suddenly struck me in that moment that God always had used young, pregnant women in his plans. And I was simply being asked to become a vicar, not to bear the Christ-child, so what was I worrying about? I heard God saying to me Dont be afraid. Nothing is impossible with me. In that moment that I said my yes to God's call.
Now, many years on, in my role as Principal of Trinity College where women and men study and train to be vicars, and for other roles in the church, I am delighted to see God calling increasing numbers of younger women to ordained ministry. So much so that we now have our womens rugby team - the Trinity Wolves! All of them in their own way, and in their own time, have said their yes to God.
In the scene of the Annunciation, Gabriel reassures Mary that God will be with her. And in that moment, Mary takes him at his word, ludicrous as it sounds, and says, Here I am, the servant of the Lord; let it be to me according to your word." Mary's yes.
When God calls us to step out and do something for him, often our natural reaction is to protest that it isn't possible, we aren't up to it, there are a thousand reasons why he really should consider someone else. But God has a way of calming our fears, if we will let him.
Male or female, younger or older, I wonder what God might be calling you to say yes to this Advent? As we ascend the stairs and pause on the landing on our way up to Christmas, will we kneel, and join Mary in saying: Here I am, the servant of the Lord; let it be to me according to your word?