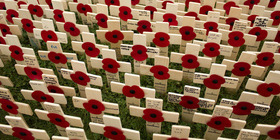 The Bishop of Bristol, the Rt Revd Mike Hill, will lead this months Whiteladies Road Annual Act of Remembrance at the St Johns war memorial on the junction of Apsley Road and Whiteladies Road in the Clifton area of Bristol on Armistice Day.
Taking place a week before the 100th anniversary of the end of the Battle of the Somme, the short service and wreath-laying on 11 November will mark the 10th anniversary of the first of the present-day Annual Acts of Remembrance at the 96-year-old Grade II Listed stone memorial.
They were instituted by the Revd Richard Hoyal in 2006 when he was priest-in-charge of the church of All Saints with St John in whose parish the memorial stands.
On Armistice Day that year, Richard was joined by a handful of parishioners and a few passing shoppers for a short Act of Remembrance.
Since then, pupils and teachers from a growing number of schools and other organisations took part so that, in recent years, the event has been attended by an estimated 400 people.
They include children from St Johns Church of England Primary School who have taken a keen interest in the memorial as most of the names on it are those of former pupils of their school who died in the First World War.
In October more than 40 of the children attended a Service of Rededication marking completion of a 4,800 contract to restore and clean the stonework. The work was organised by retired Lt Col Steen Clarke. The 66-year-old from Stoke Bishop is a former pupil of St Johns Primary School.
This year Lt Col Clarke has undertaken extensive research into the fate of those named on the memorial who died fighting in Belgium, the Somme area and Northern France. When his research has been completed he will publish his findings in a book.
During this years short Armistice Day service at 10.50 am, Bishop Mike will be assisted by the Revd Charles Sutton, vicar of All Saints with St John, and other clergy from Churches Together in Clifton, Cotham and Redland.
Prior to two-minutes silence at 11 am, The Last Post will be sounded by bugler Sergeant Major Martin Dove of the Bristol Army Cadet Force's Corps of Drums. For the first time this year, the silence will end as lone piper Sandy Kemlo from the City of Bristol Pipes and Drums plays a lament.
Wreaths will be laid this year by representatives of local residents, businesses in Whiteladies Road, Avon and Somerset Constabulary and local schools.
Brass players from Redland High Junior School will accompany the singing of the hymn I vow to thee, my country and the National Anthem.