The 2,000-mile Cathedrals Cycle Route is a new initiative to promote cycle routes between all 42 Church of England cathedrals, put together by a unique partnership between the Association of English Cathedrals, the British Pilgrimage Trust, Sustrans and Cycling UK.
To launch the route, a cycle relay is taking place this summer between each of the cathedrals. The relay ride began on 30 May in Newcastle, with one small group cycling to every Church of England cathedral in 42 days, and being joined along the route by other local cyclists who have joined the ride for as little or as long as they like.
The aim is to promote greener travel and mental and physical wellbeing, raise money for Cycling UK's Break the Cycle appeal, and to improve the cycling experience for visitors to England's cathedrals. Cyclists who complete a leg of the Cathedrals Cycle Route will also be able tocollect an official stamp showing that they have done so.
On 28 June, the cycle relay entered the Diocese of Bristol from Wells Cathedral. Upon their arrival at Bristol Cathedral the cyclists received a warm welcome and hospitality from cathedral staff.
Among those riding from Wells were Rt Revd Dr Lee Rayfield the Bishop of Swindon; Dan Jones, Youth & Children's Adviser for the Diocese of Bristol; Chris Dobson, Ecumenical and Global Partnership Officer for the Diocese of Bristol; and Jonners Peterson, a member of Christ Church, Downend, who together with Dan has been working as one of the local cycle champions. The cycle champions are working with Bristol Cathedral to improve the cycle-readiness of the building, and to try and increase the number of visitors that arrive on two wheels.
Bishop Lee also cycled on the next leg on 29 June from Bristol Cathedral to Oxford Cathedral. He said:
"The number of people discovering the mental and physical health benefits of cycling has been rising for some time, and the coronavirus pandemic, particularly the periods of lockdown, have led many to discover the blessings of riding by bike, either solo, with family, or friends.
"Increasing the use of bicycles and decreasing the use of cars also provides a blessing to our environment, reducing not just the levels of pollution but also contributing to our aims of reducing carbon emissions as fast as we can.
"Together with Dean Mandy and her Bristol Cathedral colleagues, we hope this new cycling challenge will create interest and thoughts of something different to do over the holiday period, especially when so many are looking for adventures nearer home rather than abroad. Perhaps those who have never thought of visiting a Cathedral or riding a significant distance on their bike might discover both the joys of cycling and the atmosphere and history of these precious places of worship."
The Cathedrals Cycle Route is the invention of academic, entrepreneur and keen cyclist Shaun Cutler, from Northumbria University. He said:
"The Cathedrals Cycle Route is about connecting our historic cathedrals and enjoying the spaces between them.
"Now more than ever, after a year of living with the coronavirus pandemic, this is a way to support people's mental and physical health and promote the mission of England's cathedrals through pilgrimage, wellbeing and heritage."
The cycle route comes on the back of an initiative early last year between the Association of English Cathedrals and the British Pilgrimage Trust that created a pilgrimage route to every Church of England cathedral taking in established wayfarer routes, other places of faith, spiritual pathways and lesser-known pilgrim ways enabling visitors to arrive on foot. It is hoped that the relay ride will become an annual event.
Useful links
You can find all of the routes between cathedrals in England here.
To donate to the Break the Cycle appeal, please visit the JustGiving page.
A report from Bishop Lee on the relay leg from Wells Cathedral to Bristol Cathedral, 28 June:
"Although the weather forecast had been predicted to be very wet with thundery outbursts, the day turned out to be largely dry – though some of the roads off the beaten path were very wet and care was needed when going up or down hills.
"The riders were split into two groups, with the first leaving about 30 minutes before the second. Shaun Cutler, the man behind the vision of the cathedrals ride and the benefits it could bring had arrived in Wells after riding through Cornwall, Devon and Somerset with a bike laden with heavy panniers. Ed Plowden, who lives in Bristol and works for Sustrans in the city also carried a lot of weight on his bike. I needed both arms just to raise it a few inches off the ground. Ed's and Shaun's bikes were such a contrast to the light road bikes of most of the cyclists.
"One exception was a very sophisticated trike ridden by the lead for the Wells cyclists. But he confessed it was very tricky going up hills when you were pedalling in a horizontal position.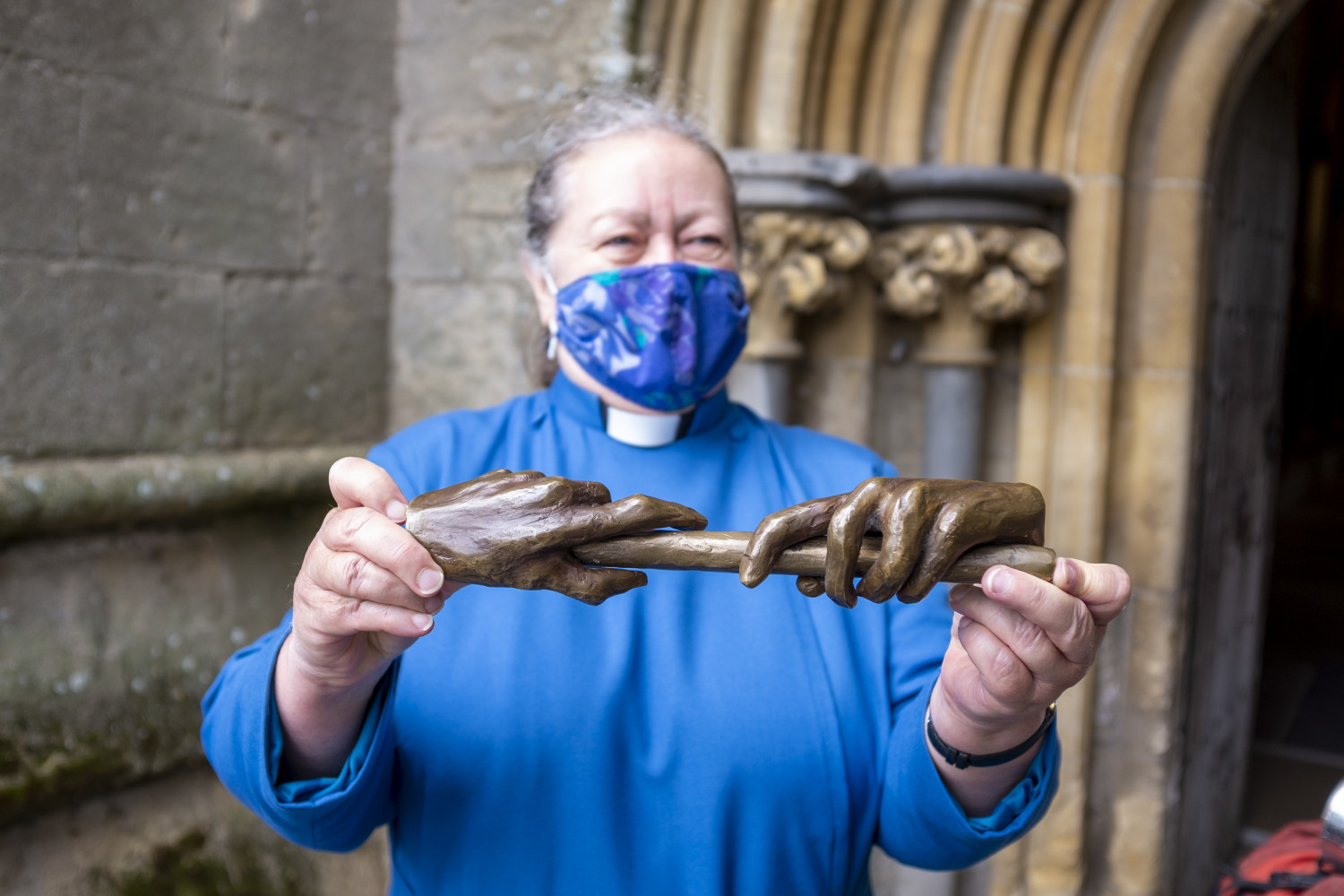 "A very special cast of two hands holding each end of a baton has been left overnight in each Cathedral visited and on Monday night it rested in Bristol Cathedral. Prayers were said as it was placed. The cast reminds us that sometimes we are well placed to offer support, at other times we need to be ready to receive it.
"The Cathedrals Cycle Route seems to have captured the imagination of many and brought together cycling organisations, charities and the Church. I can see it growing over the months and years ahead. Now time to head for bed. An early start from Bristol Cathedral awaits with a long ride to Oxford Cathedral tomorrow."
Cathedrals Cycle Routes – Prayers:
A Prayer of Thanksgiving
For the beauty all around us.
For the freedom of the road.
For the joy of travelling lightly through our world.
We give you thanks, O God.
For strength of heart and limb.
For brains alert, and senses full.
For pedal power and bikes to ride.
We give you thanks, O God.
For the support of our companions on the journey.
For landmarks on the route.
For times to stop and rest awhile.
We give you thanks, O God.
May this journey be a blessing to us and those we meet.
May we travel as your pilgrim people: open to your presence as we go.
May our departure,
our explorations
and our arrival
be marked by deep gratitude
for all we shall accomplish
and all that is yet to come.
Amen.
A Prayer for Safe Travels
O God, our heavenly Father,
whose glory fills the whole creation,
and whose presence we find wherever we go:
preserve these who travel;
surround them with your loving care;
protect them from every danger;
and bring them in safety to their journey's end;
through Jesus Christ our Lord.
Amen.
Main image: (Left to right) Shaun Cutler; Mandy Ford (Dean of Bristol Cathedral); Ed Plowden (Sustrans and Green Councillor); Bishop Lee Rayfield and John from Oxford (credit Chris Dobson).