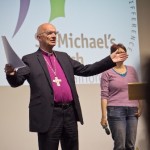 At a special celebration service on Sunday 10 May, Bishop Mike dedicated and licensed a new church centre inStoke Gifford for public worship, marriages, baptisms and funerals.
The new auditorium, which is part of the St Michaels Church and Community Centre is the first meeting space in the Bristol area to be licensed as a church since 2007.
The first part of the centre was completed at the end of April at a cost of 4.2 million. Once sufficient funds have been raised, a second phase of building work will add catering facilities, additional meeting and conference rooms and a further 220 seats on a balcony over the main auditorium.
The new building is a key part of the church's 5.5 million Heart of the Community project.
This includes refurbishing the 14th century church adjacent to Bristol Parkway railway station and refurbishing the Old School Rooms which are used for church and community activities. More than260 people attended the first church service in the new centre on Sunday 26 April.
The official dedcation documents were received by congregation member George Lord - on behalf of all those who worship at St Michael's.
Revd Simon Jones, Rector of St Michaels says, The Stoke Gifford community has grown since the old church was built and so has our congregation. For more than a decade we have had to hold our 10.30am family service in two separate buildings the church and the Old School Rooms as the church is not large enough to fit everyone in.
We welcome new people to the church every week. With more than 3,000 homes due to be built in the parish over the next decade, there is a pressing need not only for more space for the church but also local amenities for the community.
Our vision is for the facilities to make a real difference to groups, organisations and events across the community and the Bristol region. There is a lot of interest in the new building and we are already taking bookings.
More
Heart of the Community project
Photos: Rob Wicks