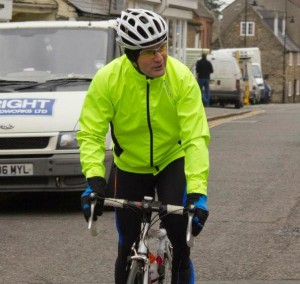 From Friday 4 July, Bishop Lee will be straddling the saddle of his bike for the next fortnight as he begins a mammoth cycle ride from John O'Groats to Land's End.
Bishop Lee is taking on the 881 mile challenge to raise money for a cause he is deeply committed to - the development of church leaders in our link diocese in Uganda.
You can sponsor Lee here.
Thetrip was originally planned for September last year but had to be cancelled at the last minute.A few weeks before Leewas due to ride,hewas diagnosed with Hodgkin Lymphoma, a cancer of the lymphatic system.
"As it turned out my excellent physical condition proved to be a great blessing as I coped much better with the chemotherapy and radiotherapy treatments," says Lee. "In fact this was the first of many blessings and the six months of treatment became a period of deep spiritual growth.
"I am delighted to report that the treatment has been successful. The physicians have declared me in remission and believe I am wholly cured."
The trip has been rescheduled from Friday 4 to Saturday 19 July 2014, and Lee will be accompanied by Mike Palmer, who is driving and providing support.
"It would be great if you would be willing to sponsor me as I try and reach my target of 10,000," says Lee. "This will enable us to hold some really great conferences to develop leadership gifts and skills in Uganda.
God has truly been using these to build confidence, collegiality and faith, and to transform communities across Uganda. I am praying that your contributions will amplify this. Thank you.
"And if you are the praying type, please pray that my physical condition will not fall short of my spiritual ambition!"