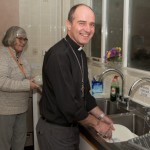 As part of the Church of Englands Washday initiative, Bishop Lee Rayfield spent the evening of Good Friday with guests and volunteers at the Swindon Night Shelter.
Bishop Lee rolled up his sleeves and helped with the washing up and laundry, as well as serving food and drinks. He also chatted and prayed with people, and at the end of the evening a couple of guests asked if he would wash their feet.
Washday is a new take on Maundy Thursday when traditionally church people have washed peoples feet, as a way of telling the story of the Last Supper when Christ washed his disciples feet. This year Washday has encouraged people to take part in practical social action during Lent and Holy Week by washing anything and everything from cleaning windows for people who would find that difficult to washing up mugs in an office.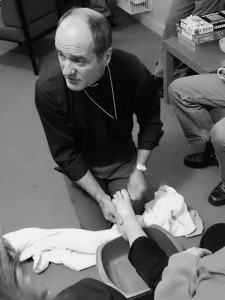 Bishop Lee says, I had a brilliant evening at the Swindon Night Shelter. It is an amazing example of what our churches are doing to support those in need in their communities.
It was a privilege to meet and talk with the guests here tonight and listen to their stories. In particular, it was a privilege to be invited to wash some of their feet, in the same way Jesus washed his disciples feet.
It was good too to work alongside tonights volunteers, Becky, Rachel, Janet, Alan, Chris and Jonathan. They give so much time and love, week in and week out, and I have huge amounts of respect and gratitude for them, and all the other volunteers in the Swindon area who do so much.
The Swindon Night Shelter has been running since 2009, and operates every Friday night from St Marys Church in Rodbourne Cheney and is run completely by a team of around 40 local volunteers. They provide homeless people in the Swindon area with a free bed for the night, as well as a shower and a wash bag, a three-course hot meal, a chance to wash and dry their clothes, and fellowship.
Becky Davison is one of the organisers of the Swindon Night Shelter. Becky said, It was brilliant to welcome Bishop Lee to be alongside us at the Shelter tonight, and it was great to see just how much he mucked in. I think both the guests and volunteers received a real boost from his visit.
The Swindon Night Shelter is also looking for more volunteers so that they can open their doors more nights of the week. They also welcome donations of wash bags to give to their homeless guests, containing items such as soaps, flannels, clean pants and socks. For more information, email info@swindonnightshelter.org.uk .
For more photographs from Bishop Lee's visit to Swindon Night Shelter, visit our Facebook page .
And for more about Washday and photos from Washday activities around the country, visit www.washday.org .