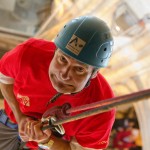 This Sunday the Bishop of Swindon, Rt Revd Lee Rayfield went over the edge to end poverty with Christian Aid as he took part in an abseil at St Sampson's Church in Cricklade.
Marking the start of Christian Aid Week, Bishop Lee joined other fundraisers taking a 'leap of faith' in theindoor free-fall abseil, down the inside of the tower and into the chancel of the church!
42people abseiledduring the course of the day, with ages ranging from 11 to 80,raising more than 8,000to support projects around the world at the beginning of Christian Aid Week.
Bishop Lee says: Christian Aid is a charity close to my heart and this year they are helping us focus on those in countries ravaged by war.
"Having visited the north of Uganda and heard what men, women and children suffered at the hands of the Lords Resistance Army I have some idea of the deep and sustained work that is needed after such violence."
Katrine Musgrave, Christian Aid'sRegional Coordinator for Wiltshire, adds: "I was over-whelmed by the success of the Cricklade Big Day Out.During the day approximately 400 people got involved with a whole host of activities, which started with a packed ecumenical service at the United Church in Cricklade and continued with a street procession up to St Sampsons. Over 50 people carried Christian Aid banners and shouted for justice as they marched!
"We were greeted by the Cricklade Band Academy and the atmosphere was fantastic families and children everywhere the chocolate fountain, bouncy castle, teddy bear parachuting, not to mention 42 people taking part in the free fall abseil into the chancel of the church.
"The sense of community and passion for Christian Aid in Cricklade was palpable I was so touched by the way the community got behind this event and made it such a huge success! The work of our partners in Iraq, Colombia and South Sudan was at the heart of the days activities the link between our partners around the globe and our supporters on the ground in the UK, had never felt more real to me.
"I cannot thank our local supporters enough. Without local people and clergy working with this level of skill and passion, Christian Aid Week just could not happen three cheers for the Cricklade, Purton, Leigh and Latton team!"