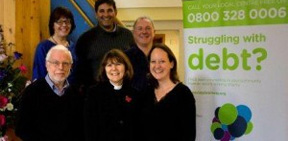 Archdeacon Christine Froude has visited a newly opened debt centre in Sea Mills, Bristol as part of the Christmas Starts with Christ campaign.
The centre, run by Christians Against Poverty (CAP), is one of a number in our diocese which have been establishedin response tothe rise in the number of people facing financial hardship.
Volunteers at the Sea Mills centre are made up predominantly of members of the congregation of the parish church, St Edyths, and work together to help individuals facing financial difficulty become debt-free.
The visit comes on the same day 40 bus shelters around the city unveil posters provocatively asking Does Christmas start with a payday loan?, as part of a national campaign launched to remind people of the true meaning of Christmas.
Archdeacon Christine, who used to work for HSBCs International Division says: For many this Christmas, debt will be an unavoidable reality. Spiralling debt can cause people to feel hopeless and over spending at Christmas can make a bad situation worse.
As Christians, we believe that Christmas is not just about the story, but also about how that story transforms peoples lives, however hopeless they may appear. By asserting that Christmas starts not with a payday loan, but with Christ, we proclaim again the good news that, in Him, it is possible for all our debts to be cancelled and our lives set free.
Christines visit followed the recent call from Archbishop Justin to reign in spending this Christmas.
Speaking in November, he said: Save up for the Christmas budget, be sensible, dont put pressure on your finances dont make your life miserable with Christmas. Share love and affection with reasonable gifts that demonstrate you really care for someone. That makes for the best Christmas you could ever have. CAP is a charity which partners with churches across the UK to help 26,000 people every year become debt free. Around a third of people calling CAP for help nationally are suicidal.
Visit the Christians Against Poverty website
See also