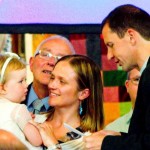 This is what has been missing from my life, this is the way that I want to live my life.
I have got two young children, Anna and James, and I wanted them to be baptised for reasons of tradition: Id been christened and everyone in my family had been christened.
I was asked to come to the baptism preparation evening at Christ Church, Downend. I hadnt set foot in a church for years, other than when I got married, and I had never set foot in Christ Church.
As I went in, I was greeted by Anita, the families worker, Paul one of the clergy, and Sandra, a member of the church and I just felt this peace and calm come over me.
I sat down and James, who was just 10 weeks at the time, was upset and Sandra took him to calm him. Im quite a neurotic mother and, in retrospect, its weird that I let a woman I had never met take my child just like that! But it was a sign of the peace I felt.
We watched a video and were spoken to and as I watched and listened I just thought, This is what has been missing from my life, this is the way that I want to live my life. It sounds odd but thats exactly the way it was. When I got home, I read what I had been given and I realised Christian faith was whats been missing.
I started coming to the mums and toddlers group and then stepped out and came to a service and a Bible study for women. I now describe myself as a Christian but feel at the beginning of my Christian journey.
But it has made a difference. I have recently gone back to work as a teacher after maternity leave and I am dealing with things a lot better than I used to. I am a lot calmer so even if when I am getting stressed about school I feel I can talk to God. Things are so much better than they were.
About the author
Rebecca is a teacher and mum of two whose life was changed when she decided she wanted her children to be baptised.