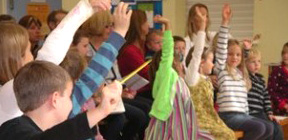 Church Schools need Church People
Could you become a Foundation Governor?
Do you:
Care about children and education
Enjoy making a difference
Like a challenge
Have a commitment to Christian Distinctiveness?
If so, you could become a foundation governor.
What is a foundation governor?
Foundation Governors (in some schools they are known as local board members) have a particular responsibility within Church Schools to preserve and develop the Christian character and ethos of the school and to build the community of schools throughout the Diocese.
Foundation Governors are normally practising Christians, but as a school governor, a Foundation Governor is more than a Church representative.They are a full governor with an equal share of the responsibility for things such as: supporting the school; developing the school improvement plan; making budgetary decisions; holding the headteacher to account; and monitoring the implementation of school policies.It is therefore necessary for all governors to have some skills which can support these responsibilities.
Why am I needed?
There are currently over two hundred Foundation Governors serving the Dioceses seventy schools. In most cases the PCC is responsible for finding and nominating Foundation Governors for its parish school(s), but there are vacancies in some schools, and the diocese maintains an informal register of those who might be willing to be placed with a school if a vacancy arises.
What qualities do I need to become a foundation governor?
A foundation governor at a Church school should be a Christian.However, you do not need to be an education professional and in fact it is useful for governors to have skills from other areas of life, for example financial, legal, HR, or health and safety.
What will I be asked to do as a foundation governor?
You should expect to:
take part in regular governors meetings, often six times a year with extra committee meetings
sit on occasional appointments panels or panels that handle staff or pupil discipline issues or complaints against the school
take part in the school visits programme arranged for governors
undertake governor training as appropriate.
How do I become a school governor?
If you would like to find out more about being a foundation governor please contact Liz Townend, Liz.Townend@bristoldiocese.org, 0117 906 0100, alternatively complete the short form below and someone will be in touch with you as soon as possible.
Following an informal conversation about the role we can put you in touch with an existing foundation governor who will be able to give you their perspective.
Download our Foundation Governor policy here.
Download our Foundation Governor application form here.
Download the Academy Council Member application form here
Download our policy on Training for Church School governors here.
If you know of someone else who may be interested in becoming a foundation governor, please pass this information on to them.